Return to blog
Friday, July 6, 2018
Ever since I invented The Music Paradigm in the mid-90s I've dreamt about having a sports team participate. I kept imagining all those athletes, coaches and management seated alongside professional symphony musicians, observing the array of skills that musicians and athletes share: speed, strength, coordination, performance under pressure, extreme focus on fundamentals, conditioning, trust… the list could go on and on. By observing accomplished musicians at work while seated inside the orchestra, athletic teams could see themselves with new insight. The orchestra "runs its plays" as quickly as any sports team. So by witnessing the musicians role-playing the very same behaviors that challenge the team in a game, the orchestra can reveal powerful understanding about how to improve performance.   You could only imagine my excitement when I was invited last week to present The Music Paradigm to 100 members of the business side of the Dallas Mavericks organization who make the executive decisions that support the players on the team.  The Mavericks' new CEO, Cynt Marshall, had experienced The Music Paradigm when she worked at AT&T, and thought it would be an excellent way to jump start the cultural changes that she's bringing.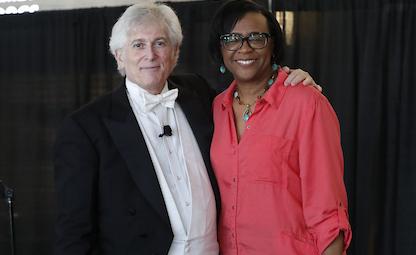 This session was a landmark in this galvanizing time when the #metoo movement has heightened awareness of bias and discrimination in workplace cultures and all communities around the world.  This was the first time that a professional sports team had utilized The Music Paradigm. The Mavericks organization aims to set a new standard for diversity and inclusion in the NBA by 2019.
Listening, collaborating, respect, empowerment and breaking down the silos that separate divisions and departments were the key points. During the session I asked the orchestra, drawn from the surrounding Dallas/Fort Worth area, to play without a conductor, and to make many spontaneous changes in the interpretation. The musicians demonstrated that they are capable of self-organizing and reaching collective decisions at an astonishing speed. The Mavericks people reacted as if they were witnessing feats of magic before their very eyes and ears. It might have dawned on them that this kind of high speed organizational improvisation is exactly what their basketball team routinely does during their games.
But to imagine this degree of transparent communication in a business organization is to envision an environment in which a team could address problems and find solutions faster and more effectively any leader could dictate.
What a thrill for me to watch these basketball decision makers awaken to the power and beauty of a Mozart Symphony. What an honor to bring great music to the service of the Dallas Mavericks. I hope that this session's lessons will continue to reverberate and make a lasting impact, not only in their organization but in the world of sports in the years ahead.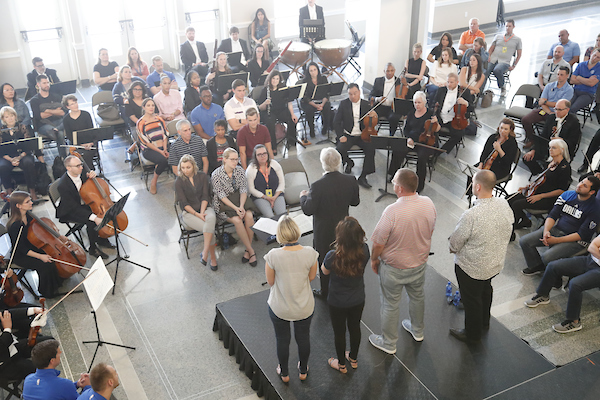 For more photos from the session, check out the Dallas Mavericks' website.