Return to blog
Tuesday, February 17, 2015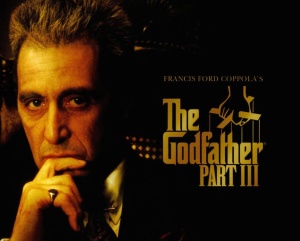 Have you seen The Godfather Part III, directed by Francis Ford Coppola and starring Al Pacino? Only an orchestra conductor with inside connections could know of the valuable lessons related to trust, leadership and eliminating layers of bureaucracy to be learned in the making of this classic film about betrayal, murder and revenge.
Remember the brutal climactic scene in the Teatro Massimo in Palermo? Pacino's character, Michael Corleone, a Mafia kingpin, is attending his son's operatic debut in a performance of Mascagni's Cavalleria Rusticana.
Coppola, who co-authored the script, was no stranger to opera. His father, Carmine Coppola, composed the music for all of the Godfather films, and his uncle, Anton Coppola, was a well-known opera maestro. Anton conducted the score, and even appeared on camera during the opera house scenes.
During post-production it was decided that the soundtrack of the famous tenor aria with harp alone, had to be redone. So a recording session was arranged in New York and the principal harpist of the Metropolitan Opera was hired. (It was from her that I heard this story.) The new soundtrack had to be synchronized to the scene that had already been shot. So Maestro Coppola sat in front of a monitor, watching the footage and conducting the tenor and harpist. They recorded take after take, but the synchronization was never satisfactory. Finally the harpist hesitantly suggested that perhaps she and the tenor might also get to look at the monitor, in effect bypassing the conductor. They had already failed so many times that everyone was willing to try something different. On the first try it was so perfect that they didn't need any other takes.
When I heard this story I was reminded of the very early days of my fledgling conducting career when I insisted that my baton was the indispensable hub that connected all of the spokes of the orchestra. That approach may work with students or amateurs. With professionals however, my insistence that the musicians focus primarily on my leadership was like denying the harpist access to the monitor screen. It just made them fail, over and over, while I actually thought I was doing a good job by analyzing how they had failed. My lack of trust was smothering whatever cooperation and goodwill the orchestra might initially have felt.